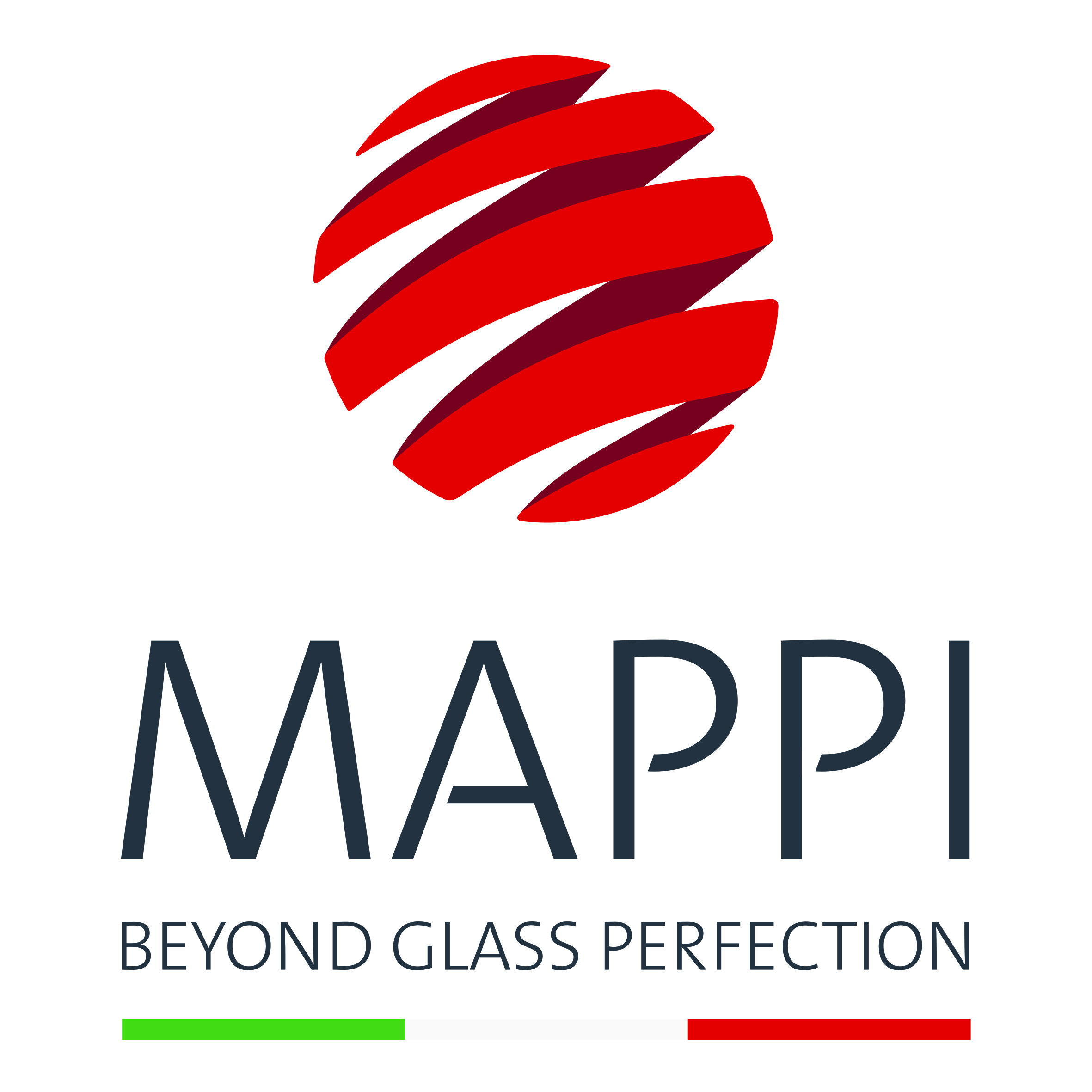 Address
Via A. Fieramonti 1
Index of products
Equipment, products and accessories for tempering and bending
Bending furnaces
SOFTWARE AND SYSTEMS
MANUFACTURE OF FLAT GLASS
Complete lines for laminated glass
Other accessories and products for laminated glass
Turnkey plants - Engineering - glass for the building industry
Machinery, equipment and systems for raw material treatment and processing
Other programs and systems
LAMINATED GLASS LINES
MISCELLANEOUS MACHINERY AND PLANTS
Tempering furnaces for flat glass
TEMPERING AND BENDING
MAPPI INTERNATIONAL Srl
Since 1993, Mappi International has designed and manufactured high quality tempering systems for the glass industry.
More than 300 plants installed all over the world represent the stages of steady growth, vast investments in research and development, uncompromising quality, and great attention to the specific needs of each and every customer.
Mappi America comes up beside the Italian Plant, located in Florida; this allows the customer service department to reach within 24 hours each and every plant.
Nancy Mammaro, CEO of Mappi stated "Our payoff, beyond glass perfection, sums up in three words our everyday aim shared at every level and in every area in Mappi. For all of us to go beyond glass perfection means to take a unique material like glass and commit ourselves to make it better because we know that glass is an unforgiving material, it clearly shows its excellence and its flaws".
Mappi International utilizes in-house production for everything. This allows them to have full quality control over each component and guarantees the highest quality performance and functionality of their machines constantly.
This path, which combines every stage of realization and their relationship with customers is called MCQ: Mappi Constant Quality.
From design to assistance, quality is at the center of everything. Every single piece, each component, and every person employed at Mappi International is responsible for the quality of a valid brand. Products and people are the expression of Mappi's thoughts and actions.
This constant quality is found both in design and in the range of products, where machines are different in size, technical solutions, mechanical engineering, and software solutions. User friendly machines that have been designed to minimize downtime during shutdown and the subsequent restart, along with the constant perfection of glass, and vast energy savings show just how Mappi will produce tempering furnaces that go beyond perfection day after day.
Today is Mappi's 25th anniversary and their aim has never changed: to become the leader in tempering furnaces, manufacturing, and to constantly increase quality and customization to satisfy the specific needs of each customer.