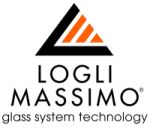 Address
Via Chemnitz 49/51
Index of products
Other equipment and accessories for cutting
OTHER ACCESSORIES AND EQUIPMENT
STRAIGHT-LINE AND SHAPED CUTTING
Metal fittings
Metal profiles
LOGLI MASSIMO SpA Unipersonale
LOGLI MASSIMO has been in the glass industry since 1989, offering a wide range of accessories and customized solutions, and becoming as of January 2012 Logli Massimo SpA Unipersonale.
The Company specializes in the manufacture and distribution of technical solutions for glass, including systems for balustrades, point-fixed panes for out- and indoors, hinges and locks for small and big doors, steel and aluminium sliding systems, handles, bars, knobs and shower cubicles enclosures, glass processing tools, not to forget the newest accessories for the UV Bonding Technology.
In the Headquarters – situated in the industrial area of Prato (Via Chemnitz 49/51) – are located offices, warehouses, a large meeting room and a wide showroom. Of great importance is also the mechanical workshop, established in 2008 and allocated for the manufacture of custom-made items, small series production and for the prototyping of new projects, in order to supply the customer with a quick assistance aiming to the promptest problem solving.
The Business boasts a workforce of 16 clerical workers (of which 3 employees of the Sales Office are polyglot Doctors), 21 workers and 5 multilingual Engineers composing its own Technical Office.
The presence of a specialized engineering team allows meeting the customers' requests, as well as developing a robust patents and case histories portfolio over the years.
To be counted is also the firm collaboration with the DMTI FIRENZE (Department of Mechanics and Industrial Technologies) for the products testing phase. This lead to the setting up in 2010 of the L.I.S. Vet. (Glass Structure Engineering Laboratory), an internal lab with state-of-the-art equipment, as for example a computerized machinery for testing the resistance of glass balustrades.
Where specific rules apply, tests in certified laboratories have to be lead; to be mentioned are the French CSTB (Centre Scientifique et Technique du Bâtiment), the TÜV SÜD and the Istituto Giordano. Of next execution are the proves at the ift of Rosenheim for the validation of the balustrade system in Germany.
Over the years, the Company have set up a network of about 15 agents throughout Italy, where it holds a leading position, in order to boost and to follow its clients carefully.
The year 2007 marks the entry on the French market, followed by the Benelux: the trust from the customers here gained, allowed establishing many partnerships through the set-up of 12 Logli Massimo Fidelity Points.
The development of the Business abroad has been carrying on since 2014 in Germany, Austria, Switzerland, Spain, Romania and Turkey, all added up to an international net of mother-tongue agents for a direct customer care.
Edition after edition, LOGLI MASSIMO SpA - together with its skilled team - foresees in Italy as well as abroad participating to the principal trade fairs, bringing its experience accumulated over time and an always-wider range of products.