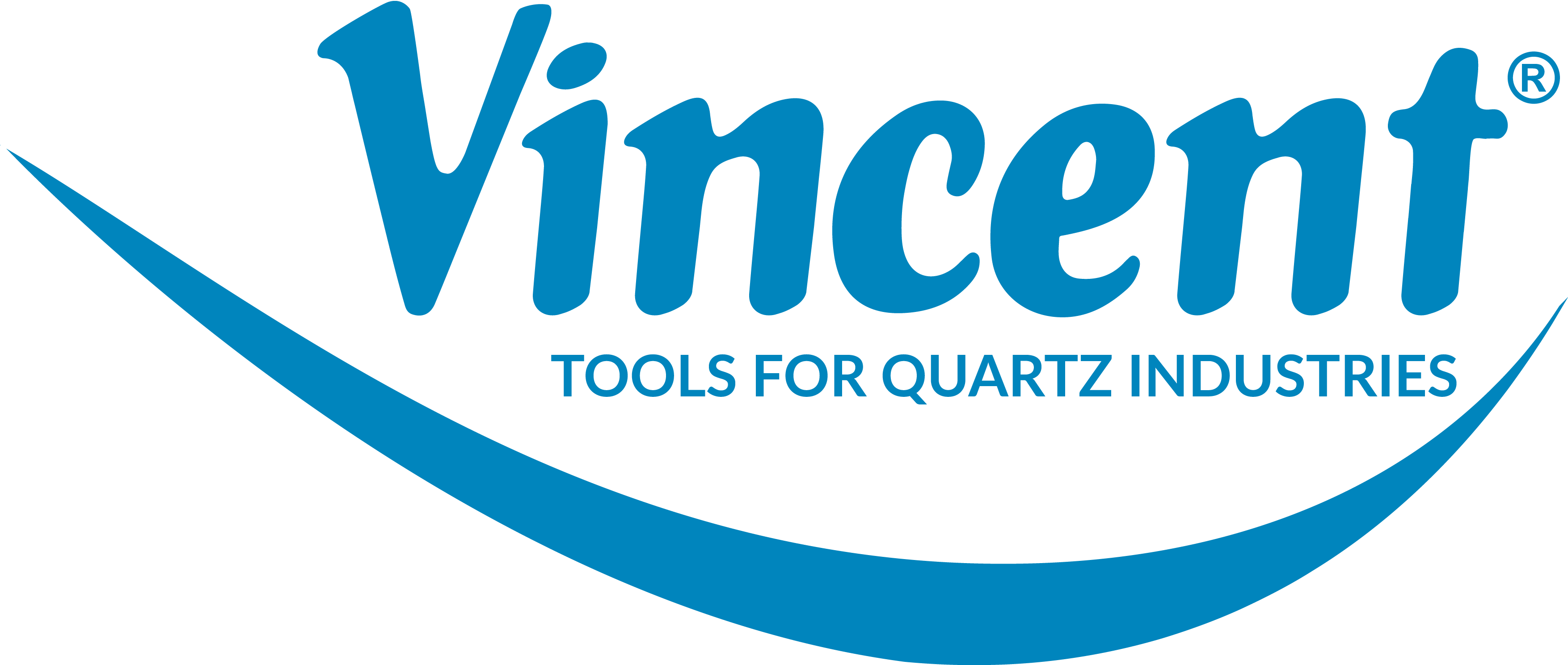 Address
Via dell'Elettronica 6
Index of products
Other equipment and accessories for cutting
PRODUCTION OF HOLLOW GLASS
Diamond tools for edging and beveling
Polishing wheels
DRILLING
Diamond drills
ENGRAVING
Diamond tools for engraving
STRAIGHT-LINE AND SHAPED CUTTING
Diamond tools for cutting
EDGING AND BEVELING MACHINES
Tools for edging automotive glass
Other accessories, tools and machines
VINCENT Srl a Socio Unico
VINCENT has been a leading manufacturer of diamond tools since 1974: tools that are used for cutting and grinding, as well as polishing natural stone, quartz agglomerate, glass and ceramic tiles.
Our organization, which includes production sites in Italy and Asia, currently counts over 300 highly qualified employees and a sales force present in over 70 countries, serving more than 1400 customers around the world.
OUR MISSION: TO ALWAYS BE AT YOUR SIDE
Our customers value us for the quality and consistency in the performance of our tools.
This recognition is thanks to our quest over the past 50 years to find advanced technical solutions to develop innovative and performance geared products. More than just a supplier, we like to distinguish ourselves as partners, an active part of our clients' production process.
We work together with our customers to apply and help define the tool most suited to their needs. The goal is to get the best possible solution to manage the customer's entire production process.
History marked by innovation
VINCENT was founded in Thiene, a small town in the Northeast of Italy, in 1974. The company is specialized in the production of diamond tools for cutting, grinding and polishing stone, natural stone, quartz agglomerate, glass and ceramic tiles. Twenty years after its foundation, in 1994,
VINCENT caught the attention of the Austrian Swarovski family, who acquired the company and brought it into the TYROLIT group, manufacturers of abrasives. TYROLIT thus enforced its presence in the world of natural stone, and made its debut in ceramics and glass tools. Over the years,
there have been many innovations, covering all applications for the processing of natural stone: starting from wire used in the quarry, to tools for polishing everything from kitchen tops to adjoining sectors, such as agglomerated stone, ceramic, glass, and automotive and optical glass.
In 2021, the Quartz Industries division left the TYROLIT group to become part of Surfaces group, reviving the historical "VINCENT" brand, enhanced by the tagline "Tools for Quartz industries". With an emphasis on quartz, the most widespread mineral on Earth, it is contained in each of the materials worked by Vincent tools: natural stone, agglomerate, glass and ceramic.